Saadiyat Island is an important tourist and cultural hub in Abu Dhabi which is developed under the Department of Tourism and Culture of the Emirati capital. After the completion of the entire island project, over 160,000 people will live here. This natural island with an area of over 290 million sq. ft offers an impressive resort infrastructure, as well as important cultural heritage sites of the country. Here you will be able to find one of the best beaches in the emirate with gorgeous blue waters, as well as picturesque mangroves. The island is under the protection of the emirate, and is where you will be able to find unique representatives of the local flora and fauna, including dolphins and hawksbill turtles.
Why Is It Profitable to Purchase Properties on Saadiyat Island?
On Saadiyat Island one can find both affordable apartments and premium residences. It's worth noting that the latter are much more popular among buyers. At the end of 2021, the average cost of real estate sold on the island was AED 1,500 (USD 400) per 1 sq. ft. In this article we will tell you why foreign investors are interested in purchasing properties on Saadiyat Island.
Location
Saadiyat Island is located in close proximity to important tourist attractions and business centres of the Emirati capital. It takes 20–30 minutes to get to Abu Dhabi International Airport and Abu Dhabi Global Market, while Dubai can be reached in less than an hour.
Yas Island, an entertainment hub which is especially popular among tourists, is a 10-minute drive away. There you will be able to find:
• Ferrari World, which is the largest indoor theme park in the world, dedicated to Ferrari cars.
• Formula 1 Yas Marina Circuit.
• Etihad Arena is the largest stadium in the Middle East with a capacity of up to 18,000 people.
Developed Infrastructure
Saadiyat Island is a perfect place for both permanent residence, as well as for family holidays, as you can find a picturesque promenade full of restaurants, bars and retail stores. Residential communities are adjacent to five five-star hotels, including The St. Regis Saadiyat Island Resort and Rixos Premium Saadiyat Island.
The most prestigious educational institutions of the country are concentrated on Saadiyat Island. These include schools like Cranleigh Abu Dhabi and Theodore Monod International French School, as well as the famous New York University Abu Dhabi which offers 25 major study programmes.
Those who are into active sports will appreciate Saadiyat Beach Golf Club which houses an 18-hole golf course, while those who love the sea, will be amazed by the beach clubs and a modern marina.
Premium Beaches
Several luxurious white sandy beaches are located on the island which include Saadiyat Beach, Kai Beach Saadiyat and Soul Beach. All of them are provided with first-class infrastructure and amenities where you will find special places for sunbathing and relaxation which include sun loungers and cabanas, beach clubs and bars, as well as a footbridge and a promenade along a marina. Those who are into sports can go fishing, practice scuba diving, yachting, rowing and other water sports on these beaches as well.
Sightseeing
On the island there is a great number of important cultural sights such as:
Louvre Abu Dhabi is an Arabic branch of the famous Parisian museum. Its collection includes unique historical exhibits, neoclassical sculptures, installations and paintings by contemporary artists, as well as world-famous classics such as Paul Gauguin, Rene Magritte and Pablo Picasso.
Manarat Al Saadiyat is the center of modern culture and art.
Zayed National Museum, which is currently under construction, will be dedicated to the history, culture and geography of the UAE, once completed. The Founder's Memorial, a permanent national tribute dedicated to commemorating the life of the late Sheikh Zayed bin Sultan Al Nahyan, the founding father of the UAE, is also located here.
Guggenheim Abu Dhabi Museum, which is under construction, will become the largest branch of New York's Solomon R. Guggenheim Museum of Modern Art in the world.
Abrahamic Family House will be the first interfaith complex in the Middle East for the past 100 years. It will include a mosque, a synagogue and a Catholic cathedral. The launch of the project is scheduled for the end of this year.
High Environmental Friendliness
All buildings on the territory of Saadiyat Island are built in accordance with the requirements of the Pearl Building Rating System, which regulates the eco-standards of modern construction. High-quality natural materials and eco-technologies are used during the building processes.
Moreover, on the territory of Saadiyat Island there are a large number of parks with walking areas, jogging and cycling paths, recreational areas and landscaped gardens.
Developed Tourist Sector
Due to high-quality entertainment infrastructure and cultural facilities which are important for the country, Saadiyat Island is very popular among tourists, which opens up promising opportunities for local property rentals. The ROI on Saadiyat Island is currently 7% per year.
Investors can consider both long-term and short-term rental options, and with the development of the island, the value of local real estate is increasing proportionally. This means that you will always be able to resell a property on profitable terms.
Unique Residential Units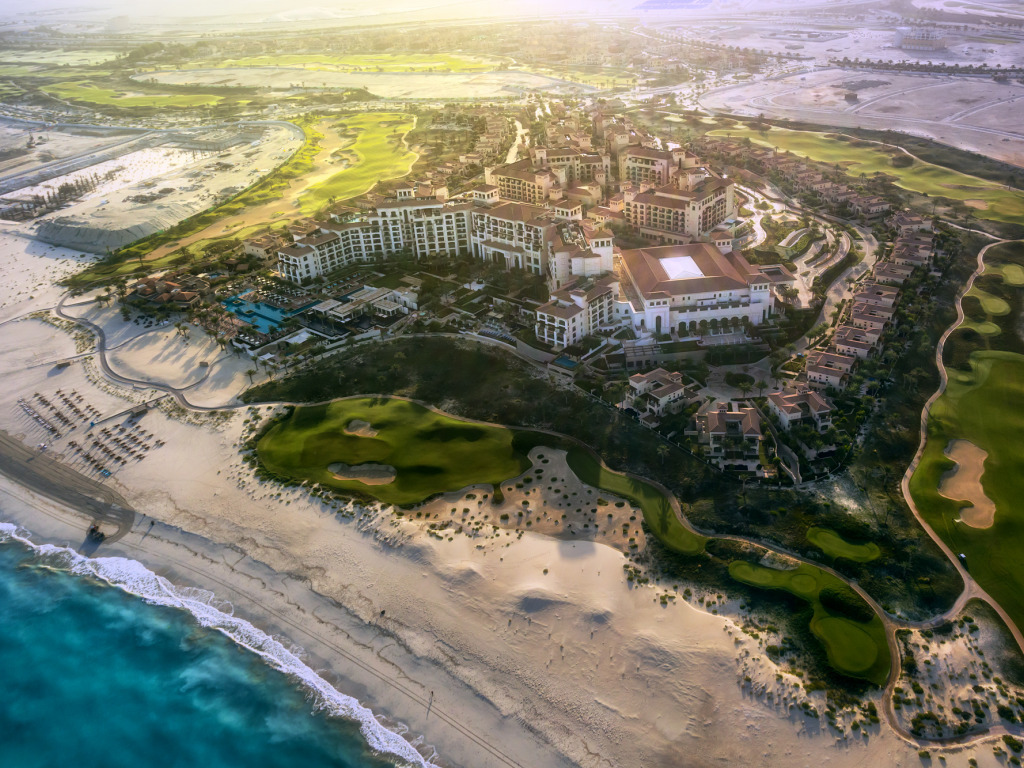 Top-5 Properties on Saadiyat Island
We will now look at some of the best residential units located on Saadiyat Island which are popular among buyers and investors.
Grove Museum Views
Grove Museum Views is a new luxurious residential complex by Aldar Properties. This huge project includes 102 residences, and future owners can choose from premium studios and 1–2 bedroom apartments with living areas from 482 sq. ft to 1,494 sq. ft. The starting price of a residence in Grove Museum Views is AED 905,000 (USD 246,000).
Each building will include a lobby with a thoughtful design, a community lounge with seating areas, a library, co-working spaces, as well as an art studio and games room. All residences will be equipped with smart home systems and built-in appliances.
Residents will have access to:
• Private parking
• 24/7 concierge services
• Roof garden with a relaxation area
• Yoga and meditation areas
• Parks with walking paths
• Swimming pools for children and adults
• Storage room for bicycles
• Grooming for pets
The complex is currently under construction and has a planned completion date in May 2025.
Saadiyat Grove
Saadiyat Grove is one of the most ambitious projects in Abu Dhabi. The project is located in the Cultural District, which is the tourist part of Saadiyat Island, and after completion it will cover an area of ​​over 645,000 sq. ft.
After Phase 2 is completed, there will be 3,706 properties within the project which includes 170 luxury branded residences, several 3 and 4-star hotels, and 140,000 sq. ft of retail stores and office spaces.
Residents can choose from studios, 1–4 bedroom apartments, 4-bedroom townhouses and 4–6 bedroom villas as part of Phase 1 which are all available to purchase. Among the offered first-class amenities available to residents are:
• Children's playgrounds
• Sports courts
• Swimming pools for adults and children
• Gardens and parks with walking and jogging paths
• A gymnasium
• Cafes, restaurants and retail stores
Louvre Abu Dhabi Residences
Louvre Abu Dhabi Residences is the world's first residential project built under the brand of a world-famous museum. The developer of the community is Aldar Properties, and completion of the construction is scheduled for Q1 2025.
Residents can choose a unit from luxury studios and 1–3 bedroom apartments. The starting price of properties here is AED 2,000,000 (USD 545,000). Each unit will be provided with private balconies offering scenic views of Saadiyat Island's landmarks, as well as spacious living rooms and open kitchens. A maid's room will be present in 2–3 bedroom apartments.
The interior and exterior of Louvre Abu Dhabi Residences are inspired by the world's leading museums, where art is intertwined with natural motifs. The building will have a spacious lobby two floors high, decorated with various works of art.
Those living in Louvre Abu Dhabi Residences will enjoy unique amenities which include:
• Coworking area
• Business room
• Hall for events
• Fitness center with a state-of-the-art gym
• Studios for pilates and yoga
• Swimming pool
• Sauna
• Room for playing table tennis and other indoor sports
• Outdoor terrace with fresh bar and infinity pool
• Cinema theatre
Moreover, residents will be able to use a wide range of services which include dry cleaning and laundry, stylist and art consultant services, private fitness trainer sessions, as well as event organisation, valet, pet grooming services, courier, concierge services, and more.
Saadiyat Beach Residences
Saadiyat Beach Residences is another premium project by Aldar Properties which consists of six 5-storey buildings designed in a Mediterranean style.
There will be 495 residential units in the complex which include studios and 1–4 bedroom apartments.
The interior of residences is designed in light colours with the use of high-quality natural materials. The price of a 2-bedroom apartment with an area of 1797 sq. ft will cost you AED 1,900,000 (USD 517,000).
Residents of Saadiyat Beach Residences will have access to plenty of modern amenities, including:
• A private parking
• A gymnasium
• Concierge services
• Swimming pools for adults and children
• A tennis court
• Children's playgrounds
• Sports courts
Hidd Al Saadiyat
Hidd Al Saadiyat is a gated community offering exclusive villas from Saadiyat Development and Investment Company, and is located in the northern part of Saadiyat Island.
The complex covers an area of ​​about 173 million sq. ft and offers 464 luxury 4–7 bedroom villas. Within each villa there will be open kitchens with modern built-in appliances, spacious terraces, bathrooms with premium fixtures, convenient dressing rooms with built-in wardrobes, an outdoor swimming pool, and a landscaped backyard. The villas are also equipped with floor-to-ceiling panoramic windows and smart home systems. The starting price of a real estate unit in this community is AED 8,500,000 (USD 2,314,000).
Hidd Al Saadiyat plans to be a closed self-sufficient community with its own retail stores, restaurants, cafes, shopping mall, private beach, as well as entertainment and cultural facilities. Parks with recreation areas, walking and jogging paths, schools and nurseries will also be located here once the project is completed.
How Can We Help?