Abu Dhabi is the capital of the UAE and is also the largest and richest emirate, with over 90% of the country's oil reserves and 60% of its economy. With almost no taxes for individuals or companies, a high level of security, a developed infrastructure for living and doing business, the opportunity to fly here easily from anywhere in the world, and an openness to innovation, this city holds great promise for foreign investors. The area offers apartments, villas and townhouses in a variety of price ranges, both for home ownership and as a means of generating a steady income from renting or reselling. No wonder the Emirates attracts a huge number of expats, as over 90% of the UAE's population come from other countries around the world. Let's have a closer look at the key factors that make Abu Dhabi one of the world's most attractive places to invest.
Geography and climate
Abu Dhabi is geographically advantageous and highly accessible to most parts of the world, including Europe, as 80% of the world's population can fly there within a maximum of 8 hours, while 33% of other countries can reach it in just 4 hours. When moving to the UAE capital, expats can visit their home country at any time to see relatives or deal with urgent matters, as well as using it as a base to travel to other countries. India, Nepal, Sri Lanka, Turkey or Greece can be reached in 4 hours from here.
Another advantage of Abu Dhabi is the warm climate. You can live in perpetual summer, even in January. In the coldest month of the year, the average temperature is 18°C and in August, the hottest month, it is 36°C. Every year, on average, the sun shines for around 2,000 hours in Abu Dhabi.
High quality of life: security, social infrastructure and leisure activities
Abu Dhabi was ranked #2 in the region in 2019 and 2020 by the global consultancy Mercer, for quality of life. Abu Dhabi has also maintained its status as the safest city in the world for five consecutive years, according to the analytical portal Numbeo.
Meanwhile, the Emirates' capital has the highest standards in terms of health and education. World-class hospitals, including the internationally renowned Cleveland Clinic and Johns Hopkins hospitals, as well as NMC and an affiliate of the world-renowned Moorfields Eye Hospital, are located here. Moreover, one of the largest and most advanced hospitals in the UAE, Sheikh Shakhbout Medical City, opened in Abu Dhabi in 2019 with the participation of the US-based Mayo Clinic Medical and Research Centre.
Abu Dhabi also offers a wide range of educational institutions. As most of the UAE's residents are expats, there are plenty of international schools that operate with a variety of educational programmes, including American, British, German and French. Higher education is also available from world-class universities in the Emirate, including New York University Abu Dhabi, Khalifa University, Sorbonne, INSEAD Business School and Al Ain University. The Mohamed bin Zayed University of Artificial Intelligence (MBZUAI), a research institute specialising in artificial intelligence, was also opened here in 2019.
The UAE government is constantly working on creating the best possible environment for residents, tourists and businesses, including the implementation of the latest scientific developments. One example is Hub71, which is an international technology community-based in the center of Abu Dhabi. The area is an ecosystem with a full range of services to support start-ups and businesses, including office space, housing and health insurance for employees.
The multicultural composition of the UAE's population also provides for a variety of leisure activities. Here you can experience the culture and traditions of different nations, taste the exquisite cuisines of most countries, and attend unique national events all in the same city. There is also a wide range of entertainment options available to residents and visitors of Abu Dhabi, from relaxing on the famous beaches along the Corniche promenade to world-class cultural venues. The Louvre Abu Dhabi Art Museum, the Zayed National Museum and the soon to open Guggenheim Abu Dhabi Contemporary Art Museum are all located here. Abu Dhabi is also popular with race fans, with the emirate hosting the Formula 1 Grand Prix and the Volvo Ocean Race annually. One of the attractions in the UAE capital is the Ferrari World theme park with the fastest roller coaster in the world.
The soon to open 13.7M sw. ft Yas Bay Waterfront entertainment zone will feature a variety of restaurants, bars and retail outlets which will be housed onYas Island.
Transportation infrastructure
Abu Dhabi's transport system meets all the requirements for both a comfortable city living and for domestic use, as well as traveling for business. The city is accessible by air, water and land, and offers residents access to international markets and tourist destinations at home and abroad.
The key transport hubs of the UAE capital are:
Abu Dhabi International Airport, which is among the best in the Middle East region. More than 50 countries are accessible from here. The new Midfield Terminal Building is now under construction and will include passenger and cargo facilities, duty-free shops, restaurants and a transit hotel. The project will increase the airport's capacity to 45 million passengers a year.
Khalifa Port is the first semi-automated container port in the Arabian Gulf and one of the most advanced in the world. This deep-water port serves over 25 shipping lines and provides direct connections to 70 international destinations. It has an intermodal transport network that ensures rapid delivery of goods by sea, land and air. Khalifa Port will be the first port in the UAE connected to the new Etihad Rail network.
Abu Dhabi is also just an hour's drive from the Jebel Ali Port in Dubai.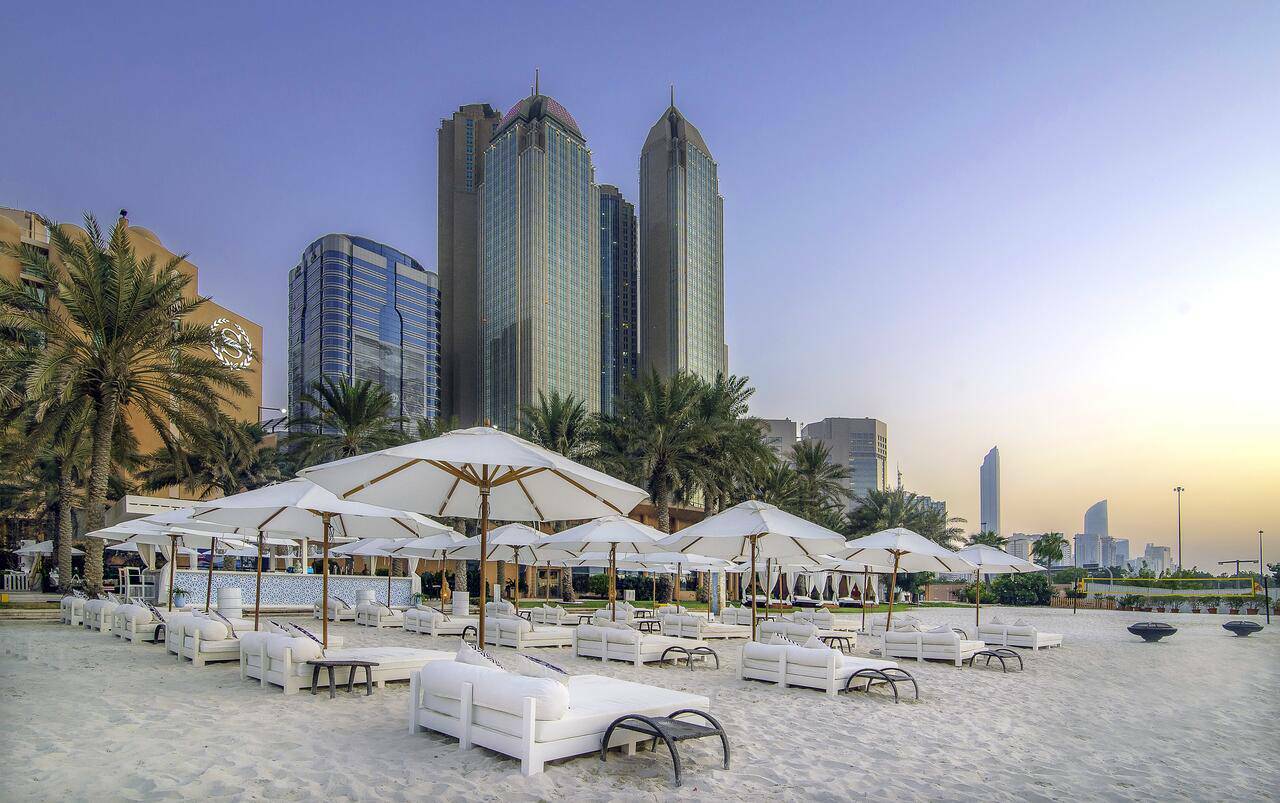 Conditions for employment and business
One of the main benefits of finding employment or starting your own business in the UAE that attracts expats from all over the world is it's zero income and corporate tax. The country has signed double taxation agreements with more than 110 countries, including most CIS countries. Therefore, Russian, Ukrainian and Belarusian citizens who have obtained a UAE residence visa do not need to pay taxes on their income earned in the Emirates. There is VAT here, but it is considerably lower than in most European countries at only 5%.
That said, Abu Dhabi companies offer workers a fairly high wage. Due to the intensive development of the emirate, the number of jobs in the city is growing steadily and unemployment is at a minimum.
Employees also have a comfortable working schedule of 48 hours a week or 8 hours a day, with each working day reduced by 2 hours during the holy month of Ramadan. The annual holiday in the UAE is 22-30 days.
The UAE capital has consistently attracted foreign entrepreneurs who want to set up their own businesses here. Abu Dhabi has one of the world's fastest-growing markets and offers exclusive opportunities for start-ups and successful businesses in sectors ranging from IT and financial technology to eco-tourism.
The emirate offers an optimal environment for business workers from all over the world. In particular, foreigners are allowed 100% ownership of companies in offshore and free zones. Entrepreneurs and investors can apply for a long-term residence visa (in some cases even a 10-year Golden Visa). They are also given the option of exemption from local fees for the first 2 years after starting a business and obtaining dual licences. Other advantages of doing business in Abu Dhabi include:
The opportunity for 100% repatriation of profits in special economic zones.
The absence of minimum requirements for setting up a company.
Favourable rental rates for offices and storage space.
The ability to source raw materials from external production sites.
Conditions for processing large volumes of products.
Low-cost energy sources.
Real estate investment in Abu Dhabi
Foreign investors can acquire full ownership of both residential and commercial properties in Abu Dhabi. However, this only applies to properties that are located in specially designated areas called 'freehold'.
If you are considering buying property in Abu Dhabi for your own residence, business or lease, Metropolitan Capital Real Estate can help you choose the most suitable option based on your goals, preferences and budget. We are also ready to take care of all legal matters and, if necessary, to arrange a mortgage.